Blog Home
Summertime Grilling Made Easy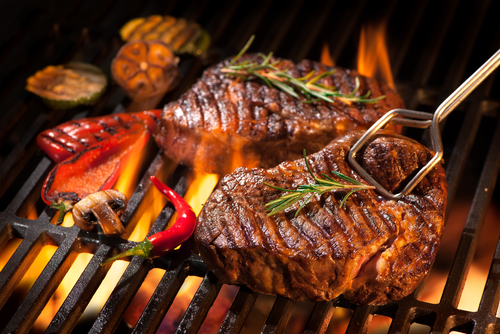 Grilling the perfect burger takes some know how and skill. Luckily, The Groves at Milford Blog has done some research to share some tips for grilling this summer, including this detailed blog about burgers: The Burger Lab's Top Ten Tips for Making Better Burgers. You'll end up with the perfect burger. Now onto more grilling tips!.
Grilling Tips
Preheat your grill 15 – 25 minutes before you plan to cook. A properly heated grill sears foods on contact, keeps the insides moist, and helps prevent sticking.
After preheating your grill, remove debris from previous meals by using a long-handled wire brush to clear off the charred bits. (Scrape it again immediately after use.)
To gauge the temperature of a grill without a thermometer, place your open palm about 5 inches above the grill rack; the fire is high if you have to move your hand in 2 seconds, medium if you have to move your hand in 5 seconds, and low if you have to move your hand in 10 seconds.
The best way to know if protein is fully cooked is to check its internal temperature with an instant-read thermometer.
Use a grill basket for foods that might fall through the grill rack or are too cumbersome to turn over one by one (vegetables, fish, tofu, fruits, etc.).
Lightly coat veggies in olive oil before grilling to help prevent sticking and drying out. Vegetables such as asparagus, bell peppers, sliced squash, and onion slices are best grilled by the direct method.
To avoid soaking bamboo skewers each time you need them, soak a big batch once for an hour or so, drain, then freeze them in a plastic bag. When it's time to grill, pull out as many skewers as you need.
Kabob ingredients, such as chicken pieces, will stay juicier longer if they are touching one another (but not crammed) on the skewers.
Now that you're all set, invite your friends over soon for a home-grilled meal or meet at a local Milford, MA park. We like this portable grill Coleman. It's perfect to take along, and folds down for transport and storage. Do you have some tips for grilling? Please feel free to share them in the comments!