Blog Home
Decorating Your Apartment for the Holidays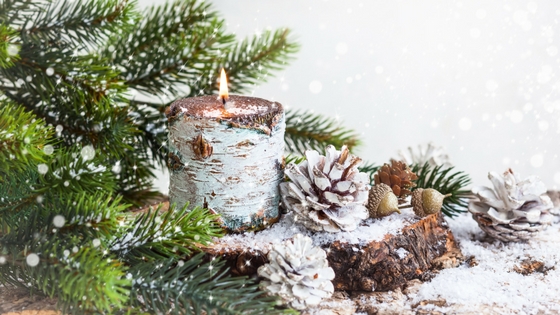 There's no place like home for the holidays, especially when you've taken time to spruce up your apartment at The Groves at Milford. If you are still mulling around ideas for December decor, we can help spark your imagination with some picks for fitting holiday themes. So read through these ideas, head out to your favorite Milford, MA craft store for any supplies you may need, and get started on transforming your apartment into a holiday wonderland.
Washi Tape Tree from Brit + Co
Washi tape is already an invaluable tool for apartment living. Stock up on some rolls this season if you haven't already (they may even come in your favorite colors for this time of year!). You can mimic the tree shapes shown in this Brit + Co article, or you can make one up yourself! We love the freedom that comes with this idea that takes up no space.
Lace Snowflakes from the Aunt Peaches blog
Lace is lovely to look at, but we don't often get out grandma's lace tablecloth for everyday use, so perhaps it's time to use it as the basis for a family heirloom. This blog teaches you how to make beautiful snowflakes from lace (get yours from a thrift shop if you can't bear to cut up grandma's tablecloth!).
This copper wreath from Erika Rax is the perfect balance of shiny and organic. We think this would be beautiful displayed in a bedroom or kitchen during the holidays. Check out the instructions here. Since this project uses a lot of found items, it's a great excuse to get outside! This wreath will be unique to you depending on where you live and what items are available. If you are unable to head outside, purchase greenery from a local florist or grocery store. You could even use silk or faux greenery to ensure you'll be able to use it again! If you're picking up items from the ground, be careful of little critters that might be hiding inside!
This mini wreath garland from The Merry Thought also uses found items. We love the idea of bringing the outdoors inside especially for decor purposes.
These 25 ideas from Babble give a ton more ideas to get your creativity rolling! Have fun decorating your apartment this season! It's definitely a little bit of a process to find exactly what you like and are comfortable in your space, but it's always fun to experiment and try new things.
Enjoy the holidays this month! We hope you like some of these ideas for your apartment. Thanks for reading along this year! We can't wait to get started in the new year! See you then!